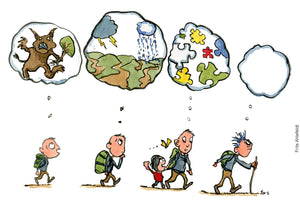 Di01378 Though our lives we walk, but our thoughts and understandings of life and the landscapes change
Illustration of how children, teenagers, young, and all the way to the old, think different thoughts along the same trails. Children can be fascinated by even a tiny leaf, or scared of silhouettes their imagination turn into trolls.  And when we get older other thoughts and plans can make the puzzle along the trail overshadow the moment...
downloadillustration,  downloads, NVF2022, 

Download - Illustration by Frits Ahlefeldt - White clean background. Jpg. file in different sizes.
No changes of images thanks!
License for use:
1- Free version for non-commercial  presentation use
is a light jpg. file only for non-commercial presentation use
If you use this,  please consider giving a donation of your choice to help me continue my work: Link to Paypal:
A max. quality jpg file, with permission for digital presentation pro use
3- Version 5000 px. width max. quality jpg print file
A large jpg max. version with permission for web, presentation and editorial print use, articles, books, magazines. 
Other use
Please contact me for other uses here