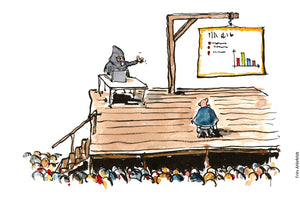 Drawing of a man being punished to death by a PowerPoint presentation
Today there are millions of digital presentations taking place at any time. Every day all year around. Could it be the biggest killer? keeping us silent, passive, sitting staring at screens, instead of being active and maybe even outdoors. 
Keywords: technology, community, health, punishment, statistics, boredom, digital reality, downloadillustration 
Download - Illustration by Frits Ahlefeldt - White clean background. Jpg. file.

No changes of images thanks!

License for use:
1- Free version for non-commercial  presentation use
is a light 1200px. wide jpg. file only for non-commercial presentation use
If you use this,  please consider giving a donation of your choice to help me continue my work: Link to Paypal:
A jpg file, with permission for digital presentation pro use
3- A Version 5000 px. width jpg print file for editorial use
A large jpg with permission for web, presentation and editorial print use, articles, books, magazines. 
Other use
Please contact me for other uses here