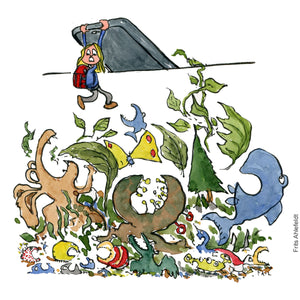 Di01373 Hanging onto the phone in fear of the outdoors
Illustration of how a person desperately hanging onto her phone, in fear of falling into nature and all the millions of species we share the planet with. 
Drawing about how a growing number of people fear nature, spiders, flies, birds and even being in nature more than the global killers of cars and indoor appliances, that are so much more likely to harm us than anything outside our civilization..
Keywords: downloadillustration,  downloads, NVF2022, 

Download - Illustration by Frits Ahlefeldt - White clean background. Jpg. file in different sizes.
No changes of images thanks!
License for use:
1- Free version for non-commercial  presentation use
is a light jpg. file only for non-commercial presentation use
If you use this,  please consider giving a donation of your choice to help me continue my work: Link to Paypal:
A max. quality jpg file, with permission for digital presentation pro use
3- Version 5000 px. width max. quality jpg print file
A large jpg max. version with permission for web, presentation and editorial print use, articles, books, magazines. 
Other use
Please contact me for other uses here