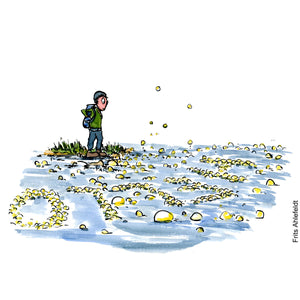 Reading nature
Drawing of a hiker standing at the brink of the water, where bubbles raise to the surface, forming the word "Hello"
We use to think we where the only ones capable of thinking for real... But now we are slowly re-realizing that other lifeforms interact, communicate and share information in ways we had no clue about for hundreds of years... An understanding we might have been more readily  to accept in earlier times.   
Keywords: communication, landscapes of understanding, hiking, philosophy, reality, hikingartist nature, environment, communication, landspirits, hello, downloadillustration
Download - Illustration by Frits Ahlefeldt - White clean background. Jpg. file.

No changes of images thanks!

License for use:
1- Free version for non-commercial  presentation use
is a light 1200px. wide jpg. file only for non-commercial presentation use
If you use this,  please consider giving a donation of your choice to help me continue my work: Link to Paypal:
A jpg file, with permission for digital presentation pro use
3- A Version 5000 px. width jpg print file for editorial use
A large jpg with permission for web, presentation and editorial print use, articles, books, magazines. 
Other use
Please contact me for other uses here