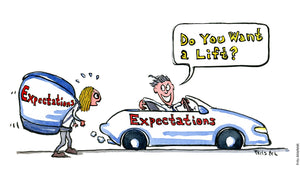 Walking the walk, or getting a lift - thoughts about expectations
Drawing of a girl with a backpack filled with expectations that are offered a ride in a fancy car, with the word expectations written on it and the guy in it asking "Do you want a lift
Expectations comes in many forms, there are the expectations we have to ourselves, the ones we can carry, and then there are many other ones... like the ones we are offered as a ride. 
In this drawing I've worked with how we can understanding expectations better either as something we bring along with us, or as something others have to us, depending on the situation and relationship
Keywords: goalsetting, hiking, exploring, walking, investment, strategy, psychology, hiker, relationship, hope, negotiation, conflict, business, job, car, smart guy, love, coaching, reality  downloadillustration
Download - Illustration by Frits Ahlefeldt - White clean background. Jpg. file.
White clean background. Jpg. file
No changes of images thanks!
License for use:
1- Free version for non-commercial  presentation use
is a light 1200px. wide jpg. file only for non-commercial presentation use
If you use this,  please consider giving a donation of your choice to help me continue my work: Link to Paypal:
A jpg file, with permission for digital presentation pro use
3- A Version 5000 px. width jpg print file for editorial use
A large jpg with permission for web, presentation and editorial print use, articles, books, magazines. 
Other use
Please contact me for other uses here